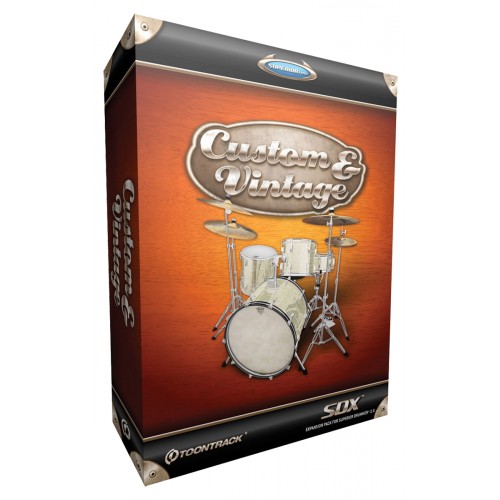 Stock Internet :
En stock
Magasin Nantes :
Sur commande
Livraison : Offerte à partir de 45€
(en France métropolitaine)
Avis des internautes
Aucun avis
Cet article est disponible uniquement sur commande internet. (Délais courts sur commande au magasin à Nantes)
Livraison en 48/72 heures chez vous.
Besoin d'un conseil ?
02 40 35 89 33
Revendeur agréé

DESCRIPTION
Kit d'extention TOONTRACK pour Superior Drummer
Custom & Vinage SDXª ressort pour devenir une extension de Superior Drummer 2.0 vous permettant d'accéder à la crême des batteries custom & Vintage de 1920 à nos jours. Enregistré à Londres dans les studios 2Khz, Superior Custom & Vintage est la suite du révolutionnaire DFH Superior de Toontrack. Désormais extension de Superior Drummer 2.0, Custom & Vintage présente une magnifique sélection de kits de batterie, caisses claires et cymbales vintages et personnalisées, joués par Chris Witten, batteur Britannique de réputation mondiale, et produit et réalisé par Peter Henderson.
Tout comme DFH Superior, c'est l'outil par excellence pour créer des pistes de batterie classiques. Suivez l'exemple de plusieurs des plus grands producteurs dans le monde et choisissez de travailler avec le meilleur simulateur de batterie jamais conçu.
Chris Whitten est connu pour avoir été le batteur sur les gros succès "What I Am" d'Edie Brikell and The New Bohemians ainsi que "The Whole Of The Moon" des Waterboys. Il a conforté sa place dans l'industrie comme l'un des plus grands batteurs au monde avec deux projets très acclamés au début des années 90, l'album "Flowers in the Dirt" de Paul McCartney et la tournée mondiale qui a suivi, et la tournée mondiale de 18 mois de Dire Straits "On Every Street" (1991-1992). Chris a également enregistré avec toute une variété d'artistes tels que Tom Jones, Johnny Cash, Julian Cope, World Party, The Pretenders et The The.
Peter Henderson a débuté sa carrière à Air Studios où il a été exclusivement formé par l'ingénieur du son des Beatles, Geoff Emerick (Sgt Pepper, Abbey Road, etc…). Peter a également travaillé comme ingénieur maison lors de nombreuses séances avec le légendaire George Martin. Producteur/Ingénieur du son freelance, il a depuis travaillé dans les plus grands studios du monde entier et a co-produit l'album de Supertramp "Breakfast in America" vendu à 20 millions d'exemplaires, pour lequel il a remporté un Grammy (catégorie Best Engineered Album). Peter a également travaillé avec Paul McCartney, Rush, Frank Zappa, Jeff Beck, Tina Turner, Ringo Starr et The Tubes. 
Système requis
Windows XP ou Vista, Pentium IV ou Athlon 1.8GHz avec 1GB RAM (multicore CPU avec 2GB RAM ou plus recommandé)
Mac OS X 10.4 (Tiger) ou supérieur, Dual G4 1.25GHz avec 1GB RAM (multicore CPU avec 2GB RAM ou plus recommandé)
12GB d'espace disque dur, lecteur DVD, installation fonctionnelle de Superior Drummer® 2.0
CARACTÉRISTIQUES TECHNIQUES
Kicks
18x24" Camco Oaklawn - 1960s
14x24" Ludwig Keystone - 1960s
14x22" Gretsch Round Badge Kit - 1960s
18x22" Noble & Cooley Star Series - 1989
16x22" Slingerland Studio King (Nashville - 1990)
16x22" Slingerland Studio King No Damping
Snares
5.5x14" Craviotto Timeless Timber Birch (DS, BR)
5.5x14" Craviotto Timeless Timber Birch (damped) (DS, HR)
5x14" Noble & Cooley Star Series (Stanbridge Jarrah Hoops) (DS, BR)
4.75x14" Noble & Cooley Alloy Classic Prototype (low tuning) (DS)
4.75x14" Noble & Cooley Alloy Classic Prototype (high tuning) (DS, BR)
3.75x14" Noble & Cooley Star Series Maple piccolo (DS)
7x14" Noble & Cooley/Zildjian Prototype (DS)
6.5x14" Slingerland Radio King Select - Nashville (DS, HR)
6.5x14" Slingerland Radio King Select - Nashville (damped) (DS, BR, FM)
7x14" Slingerland Radio King - 1940 (DS)
6.5x15" Ludwig Nickel Over Brass (DS)
6.5x14" Ludwig B/O Supraphonic - 1970 (DS, HR, BR)
6.5x14" Ludwig B/O Supraphonic - 1970s (low tuning) (DS)
5x14" Ludwig Black Beauty - 1920s (ALL)
5.5x14" Ludwig Keystone Brass Supraphonic - 1960s (DS)
3x13" Ludwig Ludalloy Piccolo - 1960s (DS, HR)
6.5x14" WFL Maple (1930 Ludwig) (DS)
6.5x14" Canopus Zelkova (DS)
5x12" Gary Noonan Solid Mahogany (DS)
8x12" Tamburo Stave Shell piccolo (DS)
Hats
14" Zildjian New Beat - 1970s (DS)
16" Zildjian A - 1960s (DS)
13" Zildjian K Istanbul - 1960s (DS)
13" Zildjian A Custom/Zildjian K (DS)
15" Paiste Formula 602 Medium (DS, BR)
14" Paiste Sound Creation Dark - 1980s (DS, BR)
14" Paiste Sound Creation Dark Sound Edge - 1980s (DS)
RTom 1
8x12" Gretsch Round Badge Kit (DS, NS)
8x12" Gretsch Round Badge Kit (damped) (DS, NS)
5x10" Noble & Cooley Star Series (ALL)
8x12" Slingerland Studio King (DS, NS)
9x13" Ludwig Keystone - 1960s (DS, NS, HR, BR)
9x13" Camco Oaklawn (DS, NS, HR)
RTom 2
9x13" Gretsch Round Badge Kit (DS, NS)
9x13" Gretsch Round Badge Kit (damped) (DS, NS)
6x12" Noble & Cooley Star Series (ALL)
9x13" Slingerland Studio King (DS, NS)
10x14" Camco Oaklawn (DS, NS, HR)
RTom 3
14x14" Gretsch Round Badge Kit (DS, NS)
14x14" Gretsch Round Badge Kit (damped) (DS, NS)
7x14" Noble & Cooley Star Series (ALL)
FTom 1
16x16" Gretsch Round Badge Kit (DS, NS)
16x16" Gretsch Round Badge Kit (damped) (DS, NS)
8x16" Noble & Cooley Star Series (ALL)
16x16" Slingerland Studio King (DS, NS)
16x16" Ludwig Keystone - 1960s (DS, NS, HR, BR)
16x16" Camco Oaklawn (DS, NS, HR)
Ride 1
20" Zildjian K Heavy Ride (DS, BR, FM)
22" Zildjian A Ride - 1950s (DS, BR)
20" Paiste Sound Creation Bell Ride (DS)
20" Paiste Sound Creation Mellow Ride (reverse from Ride3) (DS)
24" Steve Hubback Cymbal Scuplture (DS, FM)
Ride 2
20" Zildjian K Istanbul Ride - 1960s (DS)
18" Zildjian McCartney Tour Ride (reverse from Ride3) (DS)
18" Zildjian K Istanbul Ride - 1960s (reverse from Ride3) (DS)
22" Paiste Sound Creation Dark Ride (DS)
22" Paiste Sound Creation Dark Flat Ride (reverse from Ride3) (DS, BR, FM)
Ride 3
18" Zildjian McCartney Tour Ride (DS)
18" Zildjian K Istanbul Ride - 1960s (DS)
20" Zildjian K Istanbul Ride - 1960s (reverse from Ride2) (DS)
22" Paiste Sound Creation Dark Flat Ride (DS, BR, FM)
20" Paiste Sound Creation Mellow Ride (DS)
22" Paiste Sound Creation Dark Ride (reverse from Ride2) (DS)
Cymbal 1
14" Zildjian K Dark Crash (DS, BR, FM)
19" Zildjian K Dark Thin Crash (DS)
17" Istanbul Agop Sultan Crash (DS)
16" Paiste Signature Fast Crash (DS, BR, FM)
Cymbal 2
17" Zildjian K Dark Crash (DS, BR, FM)
20" Zildjian A Medium Thin Crash - 1960s (DS)
16" Istanbul K Crash - 1960s (DS)
18" Paiste Signature Fast Crash (DS, BR, FM)
Cymbal 3
19" Zildjian K Dark Crash (DS, BR, FM)
20" Zildjian Dark Crash (DS)
18" Istanbul Mel Lewis Crash Ride (DS)
17" Paiste Signature Fast Crash (DS, BR, FM)
Cymbal 4
17" Zildjian K Dark Crash (DS, BR, FM)
16" Zildjian A Custom (DS)
20" Zildjian A Medium Crash - 1960s (DS)
22" Zildjian Swish Knocker (DS, BR, FM)
19" Istanbul Agop Sultan Crash (DS)
Autre
(DS = Drumsticks, HR = Rods , BR = Brushes, FM = Felt mallets, NS = Sticks with no snares, ALL = All tools)
VIDEO
AVIS CLIENTS ET TESTS
VOIR AUSSI